Buying vs Leasing a Toyota in Staten Island
Both buying and leasing in Staten Island are excellent options when it comes to getting behind the wheel of a new car, but one option may be ideal for you than another. At Island Toyota, we have many vehicles available to buy or lease. Learn more about these two options and decide which is best for you by reading on.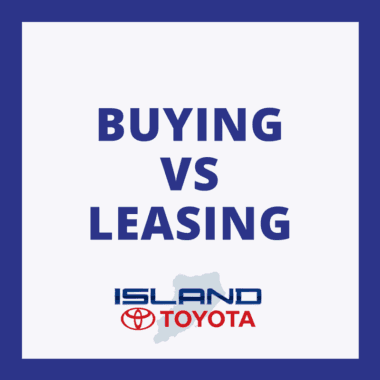 When buying a car, you put a down payment on the vehicle and then follow up with monthly payments. The amount of money you chose to pay upfront affects your monthly payments. You can choose to make a large down payment and smaller monthly payments, or the other way around. Our financing team at Island Toyota can also help you get in touch with a lender to make your purchase more affordable to you. When leasing a vehicle, you are essentially renting the car, truck, or SUV you're interested in. In comparison to buying a vehicle, you will make smaller monthly payments on a leased vehicle. This can save you money in the long run.
Another perk to leasing a vehicle is that you can update your car more often. Once your lease expires, you can bring your vehicle back to Island Toyota and start a new lease with a brand new vehicle. That means you don't have to worry about the value of your vehicle changing. You also don't have to stress out about re-selling your vehicle. Instead, you can stay up to date with the latest in the automotive industry when leasing from Island Toyota.
Whether you decide to buy or lease your next vehicle, check out what we have to offer at Island Toyota! We will gladly help you buy or lease your favorite vehicle on our lot.
Check out what we have to offer at 1591 Hylan Boulevard in Staten Island today!
New York Toyota Dealership | NY Toyota Lease Specials