Experience the Toyota Express Maintenance Difference
It's important to keep your vehicle in great shape to ensure that it lasts for as long as possible. That might sound time-consuming, but it can actually be quick and painless with Toyota Express Maintenance. Our experienced team can keep your car in great shape without taking up too much of your time. Take a look at what we offer below!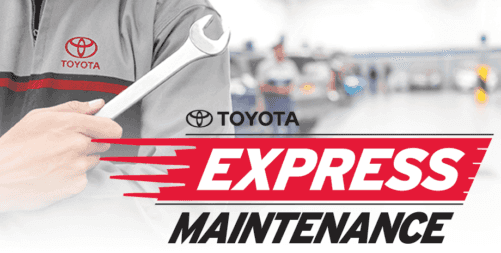 Engine Filter and Oil Change
When it comes to your vehicle's ability to operate properly, engine oil is probably the most important factor to keep in mind. It helps reduce friction while the different parts of your car move together and help heat dissipate so that the vehicle doesn't overheat. Make sure that you have the oil and filter in your engine changed regularly.
Check the Brakes
You need the brakes in your car to work well – your safety, and that of your passengers depends upon it. There are inspections that can be done to help monitor the effectiveness of the system in your vehicle to ensure that all is functioning as it should. This should be done regularly to ensure you and your loved ones drive safely.
Tire Rotation
Tires are one of those things that you don't give much thought to until they're malfunctioning – and at that point, they're probably in unsafe shape. Make sure you have your tires rotated often to help reduce wear and tear and to extend the life of the tires. This should be done every 5,000 miles.
Fluid Inspection
Finally, your vehicle uses a variety of fluids that must be replenished every now and then to keep everything running smoothly. This includes things like coolants, transmission fluid, and the fluid used to keep your brakes functioning smoothly.
Island Toyota is here to help keep your vehicle in great shape. Visit us at 111 Quintard Street in Staten Island or give us a call at 718-987-7100. Our skilled mechanics are here to serve you with quality craftsmanship and care.
Toyota Dealership near Brooklyn