Lease the Toyota RAV4 Today!
Having a new car is one of the nicest things in the world. But, you don't have to buy a new car, you can lease one. That frees you from some of the more onerous obligations of buying a car, like loan payments for six or seven years. And, if there's any car you'd like to lease, let it be the Toyota RAV4.
The Toyota RAV4 has an excellent selection of features, from its smooth ride to its host of cutting edge electronic and safety assists. No other car has so much in a compact SUV. Upgrades both inside and out make the Toyota RAV4 a worthy competitor in its class.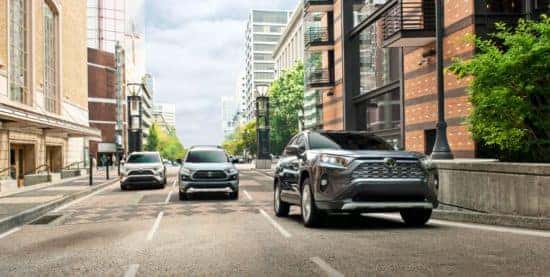 Engine and Drivetrain
The RAV4 has a 2.5-liter four-cylinder engine, rated at 203 horsepower, and it is paired with an eight-speed automatic transmission. The engine offers decent acceleration, and, with front-wheel drive, a fuel economy of 26 miles per gallon city, 34 miles per gallon highway, and 29 miles per gallon combined. Fuel economy figures with available all-wheel drive are nearly the same. The RAV4 is available as a hybrid, paired with electric motors, for fuel economy ratings of 41 miles per gallon city, 39 miles per gallon highway, and 37 miles per gallon combined.
Interior
Upgraded and redesigned, the Toyota RAV4's interior is much of an improvement, with better seat cushioning, imitation leather seats, and strategically placed chrome trim. Interior space is good, including legroom in the back seat. Cargo room, on the other hand, is modest.
A touchscreen multimedia system is part of the standard equipment, with connectivity to Amazon Alexa and Apple CarPlay. However, there is no Android Auto compatibility. A bonus is five USB ports and an 11-speaker JBL audio system.
Safety
The Toyota RAV4 has ample safety features, including a forward-collision warning system (plus pedestrian detection), automatic emergency braking, radar cruise control, and lane detection and keep assist. You can also get a blind-spot warning system, 360-degree camera, and parking sensors.
If you need more information, just contact us at Island Toyota. Stop by and visit us at 1591 Hylan Boulevard in Staten Island, or give us a call at 844-677-3638.