New 2020 Toyota Supra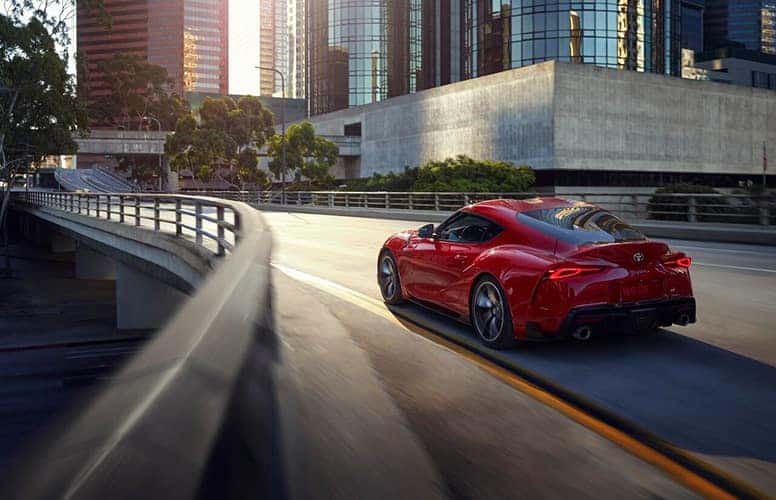 Very few vehicles are ever able to make a comeback the way the new Toyota GR Supra has. And the 2020 model will no doubt continue to reintroduce itself to an entirely new generation of drivers. Nostalgia is a hard thing to compete with, more than even the most impressive automotive rivals. But the new GR Supra has met its high expectations and even exceeded them.
Available in three exclusive trim levels; the 3.0, the 3.0 Premium, and the Launch Edition, the Toyota GR Supra is here to show that it is back with a bang! Eleven color options are available to pick from, although some can only be found on the Launch Edition. Phantom, Renaissance Red, and Nitro Yellow are some of the boldest and most exciting colors you will find on a vehicle.
But when it comes to the 2020 GR Supra, people want to know about performance. The twin-scroll, 3.0 liter turbocharged inline 6 cylinder engine powers this incredible machine, and the rear wheel drives gives it nearly perfect weight distribution. The sleek design and stunning curves provide nearly as much visual appeal as they do track appeal.
The all new GR Supra also doesn't sacrifice technology for sporty performance and styling either. Wireless Apple Carplay, a full color heads-up display, and Supra Connect are all available on these models. From looks to performance to tech, this automobile has it all.
The new 2020 GR Supra is one of those vehicles that everyone will be talking about. To get an up close and personal look at it, simply head on out to Island Toyota and we will be glad to help you. We can be located at 1591 Hylan Blvd, Staten Island, NY 10305. You can also give us a call at 844.677.3638
.