New 2020 Toyota Tacoma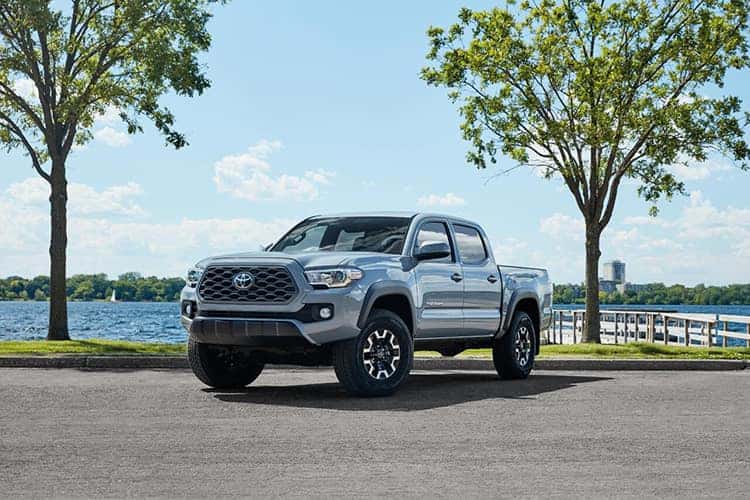 The all new 2020 model of the Toyota Tacoma's motto is play harder, and that is exactly what you will be doing if you find yourself behind the wheel of one of these impressive pickup trucks. It comes in six different models; the SR, SR5, TDR Sport, TDR Offroad, Limited, and TDR Pro. No matter what your needs are out of a vehicle, a simple daily driver or an off-roading machine, the new Tacoma has you covered.
You can also choose from nine different color options including Voodoo Blue, Barcelona Red Metallic, and Quicksand. Each distinctive exterior shading gives the 2020 Tacoma its own unique personality and look.
The all new model might be a mid-size truck, but it works like a full-size. The available V-6 engine with its 6800lb towing capacity and six speed transmission can get just about any hauling or towing job you can imagine done. Additionally, the Crawl Control and Multi-Terrain Select greatly improve the offroad handling and capabilities. This truck fears no road conditions or treacherous terrain.
It also boasts some serious tech, as well as various comfort and convenience features. The power adjustable driver's seat, as well as the Smart Key System work together to make the driver's life just a little bit easier, while Amazon Alexa, Apple Carplay, and Android Auto compatibility guarantee that whatever device or provider you have, you will be able to access it in your Tacoma. The only thing left to do now is to go look at one.
The 2020 Tacoma is built with the same quality and reliability as all of its predecessors. To come and see for yourself, simply head over to Island Toyota. We are at the same location we've been at for years; 1591 Hylan Blvd Staten Island, NY 10305. To reach us by phone, simply call 844.677.3638
.