Newest Highlander Debuts with Better Looks and Efficiency
The latest Toyota Highlander is here. The vehicle is a popular choice for adventurous families, combining spaciousness with performance and style. Learn more about the latest Highlander, which debuted in New York with better looks and efficiency, by reading on.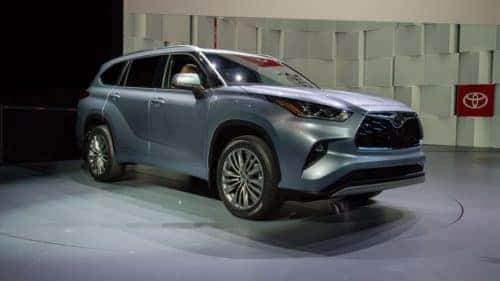 Car buyers already love the Toyota Highlander because of its reliable reputation. However, the 2020 Highlander pulls out even more stops to impress shoppers even more. At the 2019 New York Auto Show, the 2020 Highlander was revealed to include improved technology, a new hybrid system, and redesigned sheet metal.
The 2020 Toyota Highlander will be available with two different powertrain options. The first is a 3.5 liter V6 gasoline engine. This engine will earn 295 horsepower and 263-pound feet of torque. It will also be mated to an eight-speed automatic transmission that achieves 22 miles per gallon (mpg).
The other engine option is a hybrid selection, which uses Predictive Efficient Drive to help those behind the wheel achieve the greatest mpg possible. Toyota is the undisputed king of hybrid tech, and for good reason.
The 2020 Toyota Highlander is longer than it used to be, opening up the cabin for increased space. The Highlander extends 2.36 inches, without appearing bulky. Bold styling, sleek design elements, and functional features like tunable side mirrors and taillights make the Highlander a must-see.
Considering the 2020 Toyota Highlander? Keep in touch with Island Toyota to learn more about this SUV's release date. The 2020 Highlander is set to hit the road later this year, so don't miss out on your chance to get behind the wheel. Island Toyota is located at 1591 Hylan Boulevard in Staten Island, and you can learn more about the Highlander by calling 844-677-3638.
Photo courtesty of CNET.