The Rumored Toyota TJ Cruiser
Rumors are circulating about a new Toyota model. This vehicle is expected to be modern, accommodating, and cutting edge. To learn more about the rumored Toyota TJ Cruiser, keep on reading.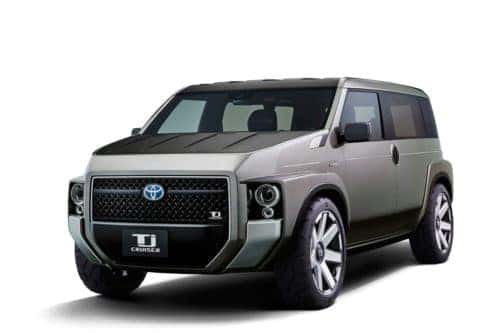 The new Toyota TJ Cruiser is part minivan, part SUV. Car enthusiasts got their first taste of the TJ Cruiser at the 2017 Toyota Motor Show. The exterior of the vehicle was revealed as a futuristic and boxy build that has a bold stance and sleek styling elements. The appearance of the TJ Cruiser is truly unique, combining the looks of a standard SUV with something of a semi-truck.
The interior of the Toyota TJ Cruiser is rumored to include passenger seats that completely fold down, allowing for maximum cargo capacity. If you are looking for a spacious vehicle for transporting cargo, the TJ Cruiser might just be the vehicle for you. Not only can interior space be maximized, but the backseat doors slide open like a minivan for easily loading and unloading.
The Toyota TJ Cruiser is expected to feature a hybrid power-train under the hood, perhaps a 1.8-liter hybrid powertrain or a 2.0-liter engine. It is also expected that this vehicle will have seating for up to five, with an available third-row in some models.
An article from a Japanese vehicle journalism website claims that Toyota has decided to unveil a production model of the Toyota TJ Cruiser in October of 2019. This unveiling is anticipated to take place during the Tokyo Motor Show. Even though there is no confirmation of a North American release of the Toyota TJ Cruiser, car buyers are still keeping their eye on Toyota to see what happens next with this exciting vehicle release. To stay up to date with all things Toyota, get in touch with Island Toyota by calling 844-677-3638 today!