Which is Better? Toyota Corolla Hatchback vs Honda Civic Hatchback
It's an ongoing contest for market dominance between the Toyota Corolla and the Honda Civic. Sedan aficionados have their favorites, but it's a very close battle when comparing their hatchbacks. So, let's look at the 2019 Corolla Hatchback versus its competition the 2018 Honda Civic Hatchback.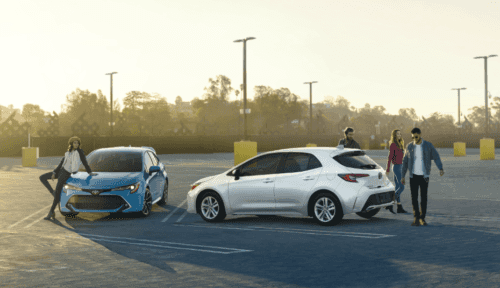 The 2019 Toyota Corolla Hatchback is a complete redesign from its predecessor. It received almost too many updates to describe here, but suffice it to say it's a worthy competitor to the Civic equivalent. Although the Corolla Hatchback is a new design, it carries the Corolla legacy of being one of the most reliable cars on the market. The Honda Civic line is also considered very reliable, so there's an even match here.
The 2019 Corolla Hatchback comes with a 2.0 liter 4-cylinder engine producing 168 horsepower and 151 lb-ft of torque. A six-speed manual transmission is standard or you can opt for a CVT. The manual has a combined fuel efficiency rating of 31 mpg or you get a boost to 36 mpg in the SE trim and 33 mpg in the XSE. The 2018 Civic Hatchback uses a turbocharged 1.5 liter 4-cylinder offering 174 horsepower and 158 lb-ft of torque with a choice of a 6-speed manual or CVT. The manual gives a combined mileage rating of 33 mpg and the CVT 34 mpg in standard mode or 32 mpg in Sport mode. The Civic offers a slight improvement in horsepower and torque, but depending on the configuration the Corolla is more efficient.
The Corolla Hatchback has an advantage in safety features. All trims have forward collision warning, automatic emergency braking, and lane keeping assistance. The Corolla CVT also has adaptive cruise control. Although the Honda Civic has an available Honda Sensing package, it is only standard on the Sport Touring trim, optional on other CVT trims, and not available with the manual transmission.
The Corolla Hatchback also comes out on top in technology. The Entune 3.0 infotainment system with 8-inch touch screen is standard, with plenty of buttons and knobs to make it easy to use. Apple CarPlay is also standard along with two USB ports and in-car WiFi. The Honda Civic base unit is a standard radio, with a 7-inch touchscreen available only on EX and higher trims. The touch screen takes away most knobs and buttons, making the Honda unit more cumbersome.
When you are ready for an innovative hatchback with loads of safety and technology features, come to Island Toyota, located at 1591 Hylan Boulevard in Staten Island, and choose your favorite 2019 Toyota Corolla Hatchback. Then grab some friends and head out on an adventure!
Toyota Dealership near New York City | Staten Island Corolla Hatchback